How to make Natural Blush I An easy DIY Recipe
If you are anything like me who doesn't wear a ton of makeup and likes to keep its simple and natural then this recipe is for you. I have been trying to avoid synthetic cosmetics which are loaded with toxic ingredients.
When you apply cosmetics on your skin, it does seep through and with it those toxins. These toxins can be in the form of artificial fragrances, propylparaben, methylparaben, talc, aluminum powder, artificial dyes, phenoxyethanol, and so much more.
These ingredients have been linked to issues like allergies, immunotoxicity, organ system toxicity, endocrine disruption, not to mention issues with the environment.
How to avoid Toxic Makeup?
There are some really good and natural makeup brands which have come up in the market but these tend to be little expensive.
However, you can choose to make your own makeup. Making a blush is super easy and requires only 2 ingredients.
DIY Natural Blush Ingredients:
Kaolin Clay: Kaolin is a gentle clay, suitable for sensitive and dry skin. It absorbs a very mild amount of water from your skin and keeps it hydrated. It is typically white in colour and I added to blush to get the desired shade of pink.
Beetroot Powder: Beetroot powder is exactly what it sounds like; dried up beets. Beets have amazing color and thus beet root powder is perfect for giving this diy natural blush that pink color. You can buy it from the market or choose to make one at home. If you plan to make, then dry few slices of beetroot for 2-3 days in sun. Once it is dried simplly blend it to make a beautiful redish powder.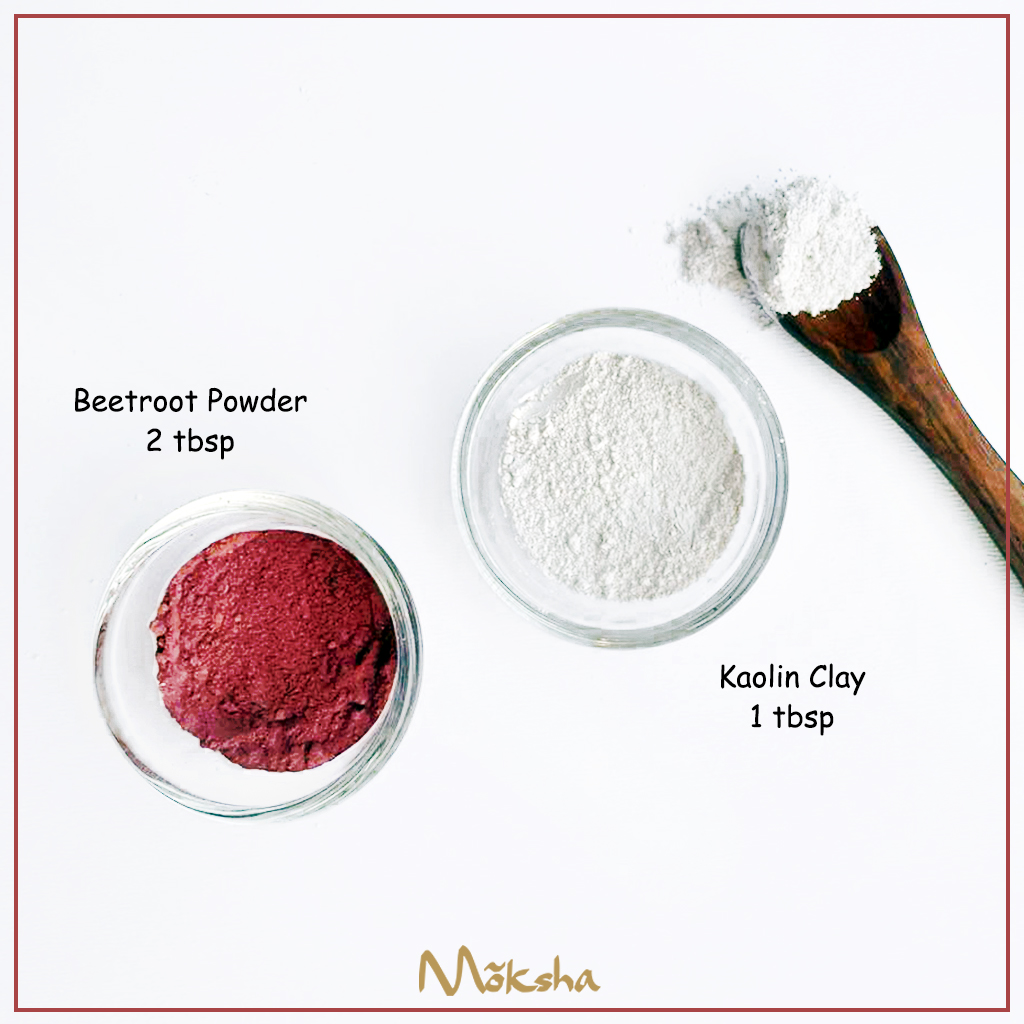 DIY Natural Blush
Recipe #1: Light Pink Blush
2 tbsp Kaolin Clay
1 tbsp Beetroot powder
Recipe #2: Rose Pink Blush
2 tbsp Kaolin clay
2 tbsp Beetroot powder
Recipe #3: Mauve Blush
2 tbsp Kaolin clay
2 tbsp Beetroot powder
1 tbsp cocoa powder
Directions:
Place all ingredients in a small jar. Stir well until its completely mixed. In case your blush is not getting mixed, place the ingredients in a coffee grinder and whirl away. You can tweak to get your desired shade.
This natural blush will give a light color to your cheeks with the added beneficial properties of kaolin clay!
You may also like:
---