Castor Oil for Eyelash Growth I DIY Recipes
With roots deep in the Indian ayurvedic medication, Castor Oils benefit in innumerable ways, a few of which are promoting hair growth, rejuvenating skin and healing body tissues. Castor Oil is a non-volatile fatty vegetable oil that is derived from the seeds of the castor bean plant, commonly known as castor seeds. Being at the core of all traditional remedies, since time immemorial, it is acclaimed in the beauty and skincare industry for being a safe, potent and natural solution for nourishment and hydration.
In today's times when appearance transformation is being chased constantly, it is nothing but natural for everyone to ascertain ways to enhance their appearances through their features. When it comes to eyelashes, engaging with chemical beauty products can be a little tricky, which is why we promote and provide natural methods of using castor oil to boost growth and appearance by improving volume, strength and nourishment.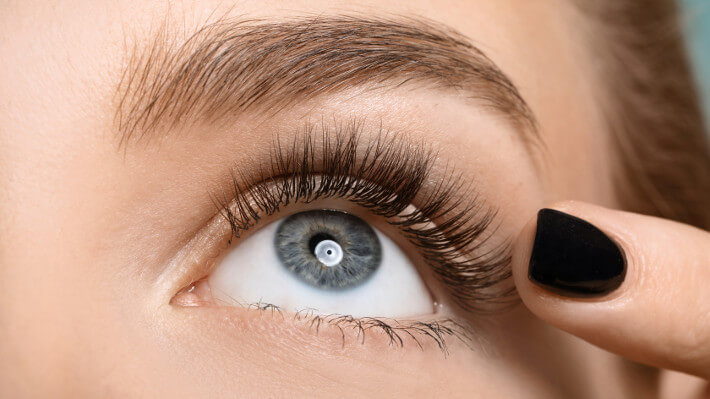 Castor Oil Benefits For Eye Lash Growth:
Catering to our consumers being wary of problems relating to weak eyelashes and discoloration, we serve to pacify the situation with remedies derived from Castor Oil as it is enriched with fatty oils, anti-oxidants and vitamins.
Promotes Hair Growth: Ricinoleic acid, a fatty unsaturated acid, being an active ingredient in the composition of the oils, which promotes regeneration of hair by aiding the reversal of hair loss, makes Castor Oil for hair growth to be quintessential.
Nourishes Hair Follicles: Comprising not only of anti-oxidants that nourish the hair follicle but also Omega-6 fatty acids which assist healthy eyelash growth, Castor Oil is an efficacious beauty secret. It can also be used to prevent pollutants from growing in the hair shafts.
Boosts Blood Circulation: Castor Oil is acclaimed for its umpteen potential of having stimulating effects on the lymphatic system and blood circulation which in turn regulates and enhances deeper nourishment of the hair follicle.
Reduces Hair Breakage: Comprising of antibacterial and anti-inflammatory properties, Castor Oil fosters healthy hair follicles, maintaining the elasticity and strength of the eyelash thereby preventing it from breaking and falling out.
Prevents dry and brittle hair: Enriched with moisturizing characteristics, Castor Oil facilitates to lock in moisture which prevents it from becoming dry and brittle.
Being a carrier oil, Castor Oil is unparalleled in its uses and benefits. It can be used directly on the skin or mixed with other Essential Oils to maximize its utility.
Choose a time in accordance with your suitability to apply Castor Oil to your eyelashes. It is preferred to apply it at night as sleeping will boost the chances of retaining the oil.

Castor Oil should only be applied on clean and make-up free eyelashes.

Use a clean mascara wand/ eyeliner brush or a fresh cotton swab to apply the Castor Oil on your lashes.

Dip the Cotton into the Castor Oil and gently rub along the top of your lash line.

Wash off the remaining oil using a cleanser or make-up remover the following day.
DIY Lash Growth Recipe
While yielding numerous benefits on its own, we offer suggestions for a number of Essential Oils to mix with Castor Oil to expand the array of advantages it offers.
Castor Oil and Vitamin E for Eyelashes
Vitamin E in Castor Oil is an effective antioxidant that assists hair repair and enhanced growth. Additionally, Vitamin E reduces discoloration and safeguards the eyelashes against UV damage which concordantly results in darker looking eyelashes.
Ingredients:
Method:
Pour both the oils in a container and mix them gently until properly combined.

Use a clean mascara wand to gently apply to upper and lower lashes.

Wash or clean it using a make-up remover after 6 hours.
Castor Oil and Almond Oil for Eyelashes
Almond Oil is an emollient for softening the skin and enhancing nourishment, it can be easily applied regularly. Together combined with Castor Oil, it is considered apt for proliferating lash growth.
Ingredients:
Method:
Pour both the oils in a container and mix them gently until properly combined.

Use a clean mascara wand to gently apply to upper and lower lashes.

Wash or clean it using a make-up remover after 6 hours.

This method should be used once in 15 days.
Castor Oil and Coconut Oil for Eyelashes
Aiding to the problem of dry and brittle lashes, coconut oi land petroleum jelly serves to be an optimum enhancer by conditioning and moisturizing. Being high in nutrients, coconut jelly assists eyelashes to get darker, voluminous and lustrous.
Ingredients:
½ tablespoon Petroleum Jelly
Method:
In a small bottle, pour 5 to 7 ml of Castor Oil.

Pour 2 drops of Coconut Oil with ½ tablespoon of Petroleum jelly.

Mix it gently.

Use a cotton ball to gently apply this mixture to your eyelashes.

Wash it off after 4 hours.

You can try this DIY twice a week.
How often to use Castor Oil?
It is considered safe to use Castor oil on your skin every day making it a cycle. It requires some time to reach the desired result but you must trust the process. You will be able to visibly witness the results after a couple of months of regular application.
Does Castor oil have Side Effects?
Despite the plethora of benefits that one can avail from Castor Oil, there are certain things to be kept in mind while using Castor Oils. Castor oil is safe to be applied on skin and in DIY recipes.
Some people might have allergic reaction to this oil and thus it is recommended that you do a patch test before applying on larger area.

Ensure that the oil does not enter the eyes as it is prone to irritate the corneas.

Always buy from trusted source and ensure that castor oil is cold pressed as it helps retain nutrient properties of the oil
Takeaway
Castor oil is an excellent oil which works miraculously to achieve long eye lashes. It comprises of numerous properties which help nourish hair follicles and boosts hair growth. Regular use of castor oil not only helps in growing longer but also thicker eyelashes.
You may also like:
---